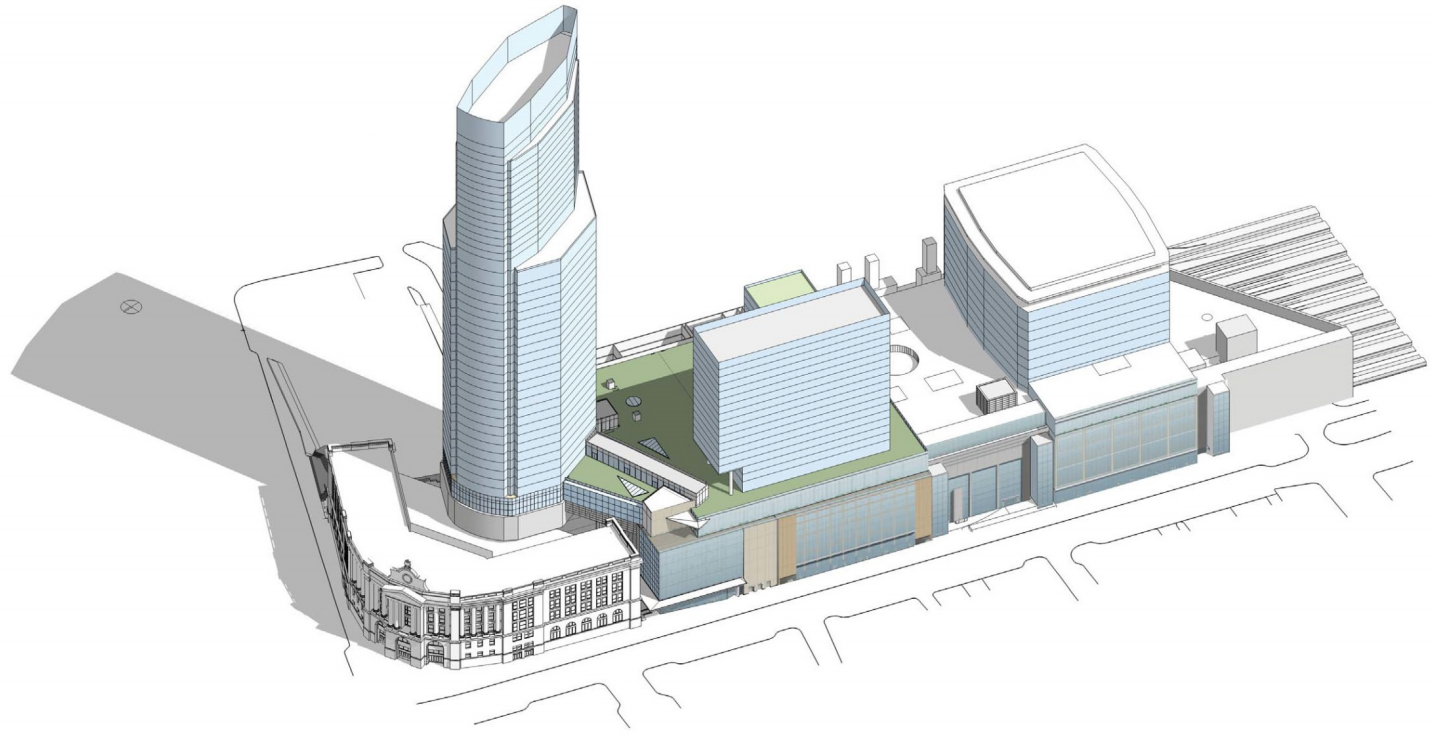 Rendering: Boston Redevelopment Authority
The development team behind a massive air-rights project at Boston's South Station has altered its plans for the three-tower project to boost the number of residential units and build a mixed-use skyscraper.
Global real estate development giants Hines of Houston and Gemdale Properties of Shenzhen, China on Friday submitted notice of project change documentation with the Boston Redevelopment Authority and with state environmental agency MEPA for the South Station project. That NPC alerts the city and commonwealth of Hines and Gemdale's plans to alter the development scheme and design of a project that first received city approval a decade ago.
The updated development plan calls for a 2.522 million-square-foot development, to be built over three phases, including:
A 43-story, 677-foot mixed-use tower that would include office, amenity, retail and conference facilities on floors 1-26 and 175 units of residential on floors 28-43. "The change in use from all office to mixed-use office and residential, as well as a change in structural design, has allowed for the addition of two floors to the building without increasing the overall height of the building," the development team wrote in the notice of project change.
A 17-story, 334-foot tower spanning 438,000 square feet. The building could include a mixture of apartments or condominium units, a hotel, or a mix of hotel space and residential space. If the tower was all residential, it could include up to 260 condominium units or 375 rental units; if it was all hotel, it would include 360 rooms; a potential mix of residential and hotel "will depend on market conditions," the development team said.
A nine-story, 249-foot mid-rise office building that would span 511,000 square feet and be built atop an existing parking garage.
The project is also slated to include a 106,000-square-foot expansion of South Station's existing bus terminal as well as a new five-level, 1,083-space parking garage.
"Due to changes in market conditions since 2006, the amount of office space being proposed has been reduced and the portion of space devoted to residential use has been increased," said David Perry, senior managing director at Hines, in a prepared statement. "The overall height and size of the project is substantially the same as the previously approved proposal. The expansion and completion of the bus terminal and construction of other transportation infrastructure improvements at South Station, all to be built as part of the private development project, remain integral components of the proposal."
On the South Station development site, the BRA in 2006 approved a 40-story office tower, a nine-story office building and a 13-story building that contained 200 hotel rooms as well as up to 195,000 square feet of residential space. The three towers were slated to range in height from 183 feet to 678 feet. Hines' co-developer, Tufts University affiliate TUDC Inc., had exited the project in 2009, and Hines never moved forward with construction.
The BRA in May certified Gemdale as Hines' new equity partner in the project. Hines expects the project's first phase of construction to start in 2017 and take four years to build.
Source: Boston Business Journal